Introducing the ALL NEW Weekend Warrior Router Table Package
Key Features
JessEm's New Weekend Warrior Router Table Package gives you everything you need to start discovering your love for woodworking!
This router table package is extremely affordable and competitively priced! Not only that, but the entire package is made entirely in our facility right here in Atlantic Canada; making this the only router table made entirely in North America!
All materials sourced for this router table package is made of the JessEm-Level quality materials you've all grown to know and love! From the Powder-Coated Steel to the pre-laminated MDF top, the Weekend Warrior Router Table Package will be a staple in your woodshop and for future projects as well!
The pre-laminated Rout-R-Top contains a multitude of features! We've cut out an insert so you can incorporate either a router lift or plate measuring 9-1/4" long x 11-3/4" wide x 3/4" deep. We then milled out a section for a 2-tier custom miter track, allowing the use of tools needing either a standard 1/4" or 3/4" T-Slots. Underneath we pre-drilled holes to mount the top to our Steel Stand and even added a few more to accommodate our optional Dual Intake Dust Box as well! This top measures a solid 1-18" thick. At 32" wide and 24" deep, this top provides ample space to make just about any cut with ease!
Our new Rout-R-Fence maintains the exceptional build quality of our other router fences, but with a few more tweaks! This Fence includes removable fence faces, which are easily adjusted using the rear access knobs when you're changing from cut-to-cut. The fence also includes a see-through bit guard and 2" dust port, keeping your hands safe and your work tidy throughout your project. On top we added a standard 1/4" T-slot which is perfect for adding our Clear Cut Stock Guides or any other accessory you made need to get the job done. Finally, we've created all-new custom cam locking levers, so you can make quick adjustments to your fence on the fly. It even features a thickness adjuster on the bottom, so you can use this fence on any top measuring 3/4" - 1-1/8" thick!
Holding everything together, we've created the ultimate Steel Stand! Made of 14 Gauge Cold Rolled and Powder-Coated Steel with a black-matte textured finish, this stand will last a lifetime and sports many great features. We include 32 pem nuts for easy assembly, each custom made in our Swiss Lathes. Each brace is then hemmed to reduce flexing and we incorporated a tri-bend on every leg to give you maximum strength and stability. The bottom of the stand has a small shelf lip for the unobstructed ability to add a custom cabinet to your router table and each leg is equipped with adjustable leveling legs to ensure your table sits both level and firmly on the floor of your workshop. All of the steel pieces are both cut and bent using our Trumpf Laser and Brake Press, guaranteeing perfectly precise parts on every stand. We even included some pre-drilled holes to accommodate our optional Multi-Purpose Casters for those looking to mobilize their workshop and to make this setup perfectly fit your setup with ease. Stand Dimensions (without the top attached): Height - 35" Width - 26" Depth - 22"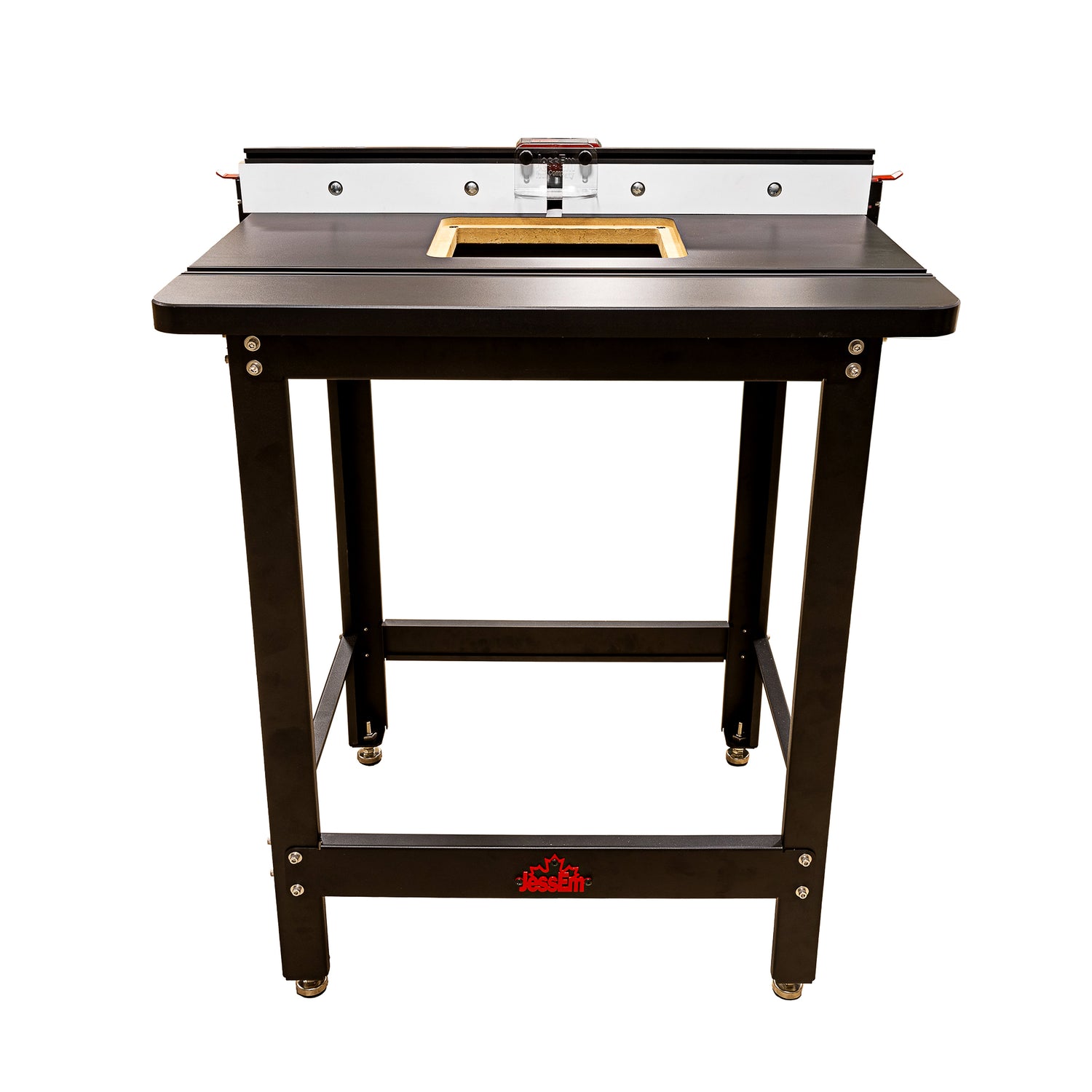 ORDER YOURS NOW!
Made entirely with the high quality materials JessEm is known for,
the Weekend Warrior Router Table Package is the perfect addition
to get you up and running in your woodshop!